Committed to providing improved safety, security, and locating solutions through best-in-class service and innovative design for your most valuable assets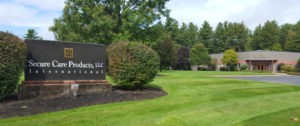 At the root of our strength and success for over 40 years, Secure Care Products, LLC, firmly believes in the value of building strong, long-term relationships on a foundation of mutual trust. Our relationships with individual customer facilities, Corporate Account Program customers, certified local Reseller Channel Partners (who help bring our product to market), Suppliers and our Technology Partners all are imperative to allow us to fulfill our mission of continuing to develop and manufacture the best technology that ultimately may save the life of a loved one. 
We have a network of valued partners including distributors that are found around the world offering our range of security solutions such as our latest Location-Based Data Solutions (LBDS), asset tracking, and our mobile app, wander management and infant protection solutions. 
Our History
Secure Care Systems was founded in 1979 and consisted of six employees within 1,800 square feet of space and no manufacturing on site. The company's first wandering electronic security solution was a rubber floor mat antenna placed at a facility's exit doors. All design and manufacturing of the products were conducted off-site. The company was acquired by its current ownership in 1988 and the present owners have been providing health care services since 1946. From their experience owning and operating long-term-care facilities, they witnessed a need for better security for their dementia and Alzheimer's residents without infringing upon their mobility, independence or dignity. Their concept of physical restraint-free wandering resident supervision was realized with the creation of Secure Care Products, Incorporated (n/k/a Secure Care Products, LLC). 
Secure Care Products was the first company in the world to design and manufacture electronic monitoring equipment for wander-prone residents to prevent elopements and potential injuries. 
Today we empower long-term care and healthcare facilities around the world with state of the art, cutting-edge technologies that keep people and products, protected. 
Success Stories
Secure Care's long list of satisfied customers throughout the globe is a testament of the quality and value our customers receive with Secure Care's product line. Whether you need infant security or wandering resident software, or anything in between, Secure Care has a solution that's right for you. Learn more about our advanced technology so you can advance your organization's safety.
Contact a Secure Care Representative